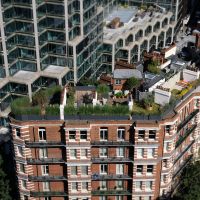 IOTA was commissioned by a Residents Group to design and supply a planted perimeter, around a shared 7th floor roof terrace, in Ashley Gardens, London SW1.
IOTA's perimeter was to be the sole safety perimeter for the completely exposed roof terrace; and IOTA was responsible for all works, save Installation – to include Site Survey, Design, Manufacture and Supply.
IOTA's design passed Structural Engineer evaluation; and it met the requirements of the City of Westminster Planning Office, in terms of providing a secure edge protection against falls from height from the roof terrace.
View Project