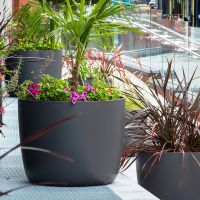 IOTA's Boulevard planters were selected for the extensive leisure and retail redevelopment of the canal-side waterfront, at Castle Quay in Banbury.
A total of 38 large planters were used in this scheme, specifically the three largest sizes of the KYOTO design:
KYOTO 70 Dia. 700 x H 540mm, Vol. 160L
KYOTO 90 Dia. 900 x H 700mm, Vol. 400L
KYOTO 120 Dia. 1200 x H 900mm, Vol. 950L
The standard colour was chosen – RAL 7016 [Anthracite grey] – which acts as a perfect neutral foil for the lush and architectural planting scheme.
View Project