---
City Of Westminster College
Posted 19.10.2011
---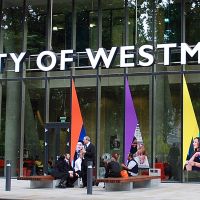 Bespoke galvanised steel planters were commissioned for the Paddington Green Campus of the City of Westminster College.
The planters coordinate with colourful, modern patio furniture on an outdoor terrace seating area.
Galvanised steel planters are tough and resilient, with a distinctive urban look. Galvanised steel is also commonly specified where metal planters are required but budgets are constrained, as it is a lower cost option than stainless steel or powder coated steel.
View Project