---
City University and King's College London
Posted 07.11.2011
---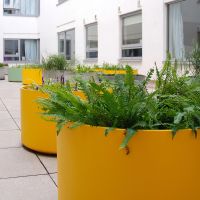 IOTA's Boulevard planters are available in a wide selection of sculptural stock designs, and planters can also be custom-coloured at no additional cost.
This design potential was used to great effect to enliven communal spaces at both City University and King's College London.
At Moonraker Point in Southwark, a total of 46 Boulevard planters were used to enliven the courtyard spaces, including large circular planters boldly coloured in RAL 1003 [Signal Yellow], RAL 6019 [Pastel Green], RAL 6021 [Pale Green] and RAL 1007 [Daffodil Yellow].

At City University's Northampton Square campus, a gated 'dead' space existed between two buildings, which the University wished to bring into constructive communal use. Designed and installed by Hedgehoggs, the space was transformed into a tranquil garden oasis, using sculptural Boulevard planters colourfully planted. The centrepiece to the garden is a 690-litre ALADIN 138cm tree planter, and other designs featured are OSAKA, KYOTO and LAUSANNE.
View Project