---
Derry City Council, Lead Tree Planters
Posted 22.03.2016
---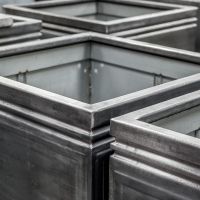 Bespoke lead tree planters were commissioned by Derry City Council, for the city's landmark 17th century City Walls.
The design for the planters was originated by IOTA for Derry City; and features definite counter-relief moulding to accent, and add substance, to the planter rim and footing, combined with a subtle relief moulding to frame the planter sides. The design is unpretentious, monumental, and timeless; in keeping with the unique character, scale and history of Derry City Walls.
A total of 10nr. planters were supplied, dims. L 900 x W 900 x H 900mm. The planters were manufactured from 3.15mm thick Lead, clad onto a structural Zintec Steel subframe.
View Project