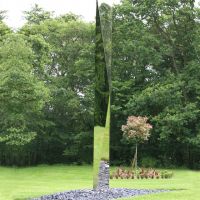 Mirrored garden sculpture has an unadorned charm and enigmatic quality which will never age, and in recent years IOTA has been at the forefront of this garden design trend.
IOTA launched its Reflecting Garden Sculpture collection in 2001, since which time designs like the Shaft of Light have become modern classics, and the range has been highly influential in showcasing the creative possibilities of "gardening with mirrors".
IOTA also undertakes special commissions in stainless steel sculpture, including the manufacture of complex and large-scale designs. The company has a growing international reputation in this field, with both corporate and private clients in the USA, Canada and Europe.
One such sculpture commission is the Spearhead 4000. This is a variation on a smaller Spearhead design first introduced by IOTA in 2005, reconceived onto a more monumental scale. An imposing piece standing 4m (over 13') tall, the sculpture has the scale and presence to work within a range of bold landscaping schemes, both corporate and residential. To-date three Spearhead 4000 pieces have been commissioned: for a country estate in England, for a private house in Southern Spain, and for a condominium development in Canada.
View Project