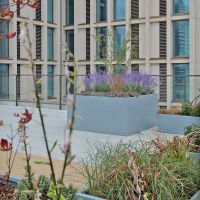 IOTA delivered a complete programme of large-scale, bespoke steel planters for the development of the Duncan House student accommodation building, Stratford, London E15.
The Scope of Works comprised 33nr. individual planters, as follows:
12nr. Tree Planters L 1475 x W 1475 x H 750mm
5nr. Tree Planters L 2000 x W 2000 x H 1000mm
2nr. Tree Planters L 3500 x W 1500 x H 750mm
9nr. Shrub Planters L 5000 x W 1000 x H 500mm
5nr. Shrub Planters L 2000 x W 1000 x H 500mm
The planters are installed at street level, in public realm, around the building; and in two communal roof gardens [as shown in the Image Gallery].
The Tree Planters were manufactured from 3.0mm Zintec Steel, and included standard tree planter features – namely: diagonal cross-braces, creating a large central void for tree root balls; 4nr. steel eye bolts in the base for tree anchor attachment; and including adjustable feet. The Shrub Planters were made from 2.0mm Zintec Steel, with most being of multi-section construction [see drawings in Image Gallery]. All planters were Polyester Powder Coated [PPC] on all surfaces to RAL 7001 [Silver grey].
View Project