---
Birmingham Audi
Posted 25.04.2007
---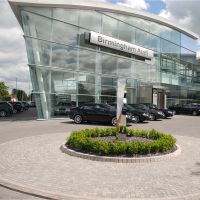 Mirrored garden sculpture has an unadorned charm and enigmatic quality which will never age, and in recent years IOTA has been at the forefront of this garden design trend.
IOTA launched its Reflecting Garden Sculpture collection in 2001, since which time designs like the Shaft of Light have become modern classics, and the range has been highly influential in showcasing the creative possibilities of "gardening with mirrors".
For Birmingham Audi in Solihull, a simple customisation was requested to the Shaft of Light design, to incorporate the Audi logo. This was achieved via a laser-cut brushed stainless steel decal, attached to the front and back faces of the sculpture.
View Project