---
Four Seasons Resorts, Mauritius
Posted 19.05.2009
---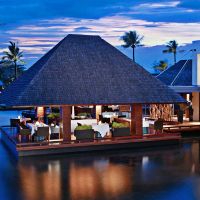 IOTA's planters were specified by leading international design firm Richmond International for the new Four Seasons Resort, Mauritius at Anahita.
Opened in October 2008, the luxury resort offers 123 spacious villas and residences, divided between the mainland and a private 11 acre island.
A total of 47 extra-large bespoke planters were commissioned, in a mirror-polished, jet black granite stone. The planters were used at key signpost locations within restaurants, bars and public circulation areas. The custom stone and mirror finish was originated by IOTA to meet Richmond International's design specification, and was subsequently also used in the Bahrain City Centre Mall project.
View Project