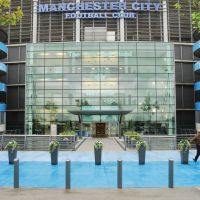 Custom granite planters from IOTA have been selected by Manchester City F.C. for the City of Manchester Stadium.
The planters line the entrance to the Colin Bell Stand (West Stand), which is a shared entrance also for the Administrative Office, Boardroom Suite and Executive Boxes.
1500mm tall column planters stand either side of the canopy to the entrance, while ranks of 1300mm trough planters create a strong visual line leading to the entrance doors. The planters' mid-grey polished granite blends harmoniously with the contemporary façade of green tinted glass and grey steel. A permanent planting of Buxus topiary is underplanted seasonally – as shown here, where grey/green grasses have been accented with blue/lilac florals.
In addition to custom planters for the stadium, a line of IOTA's stock design Granite Tall Taper XXL planters create a sense of arrival at the stadium. In addition, Granite Cube 600 planters were selected for the club's Carrington Training Centre. Planted seasonally, these capacious planters serve to green the front of the main building, as well as to define the Directors' car parking spaces. A further set of Granite Tall Rectangle planters signpost the entrance to the building.
View Project