---
Minimalist Water Garden
Posted 12.10.2007
---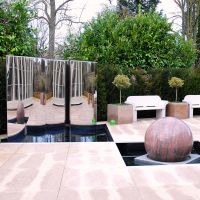 Bespoke planters in coloured granite were commissioned for a private client's minimalist water garden by landscape designers Miles and McCulloch.
In addition to being of the highest quality, the planters needed to conform to a precise colour palette, to match an extensive hard landscaped scheme.
IOTA sourced an appropriate granite stone for the planters, resolved certain technical issues in working with the new material, and delivered on the order well within time and budget. The same stone was subsequently specified for benches supplied by IOTA to Castle Quay, a development comprising residential, civic and commercial spaces on the waterfront in St Helier, Jersey.
View Project