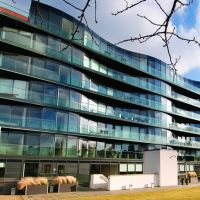 IOTA's Boulevard planters were selected by Sundial Properties for their award-winning XXIII Ravelston Terrace development in Edinburgh.
A total of 54 planters were used in the scheme, including some of the largest planters within the Boulevard range.
DELTA Carat trough planters in Anthracite colour combine flat sections of the Boulevard material within a stainless steel frame. This contrast between grey and steel gives the planters a clean, modern aesthetic, which resonates with the ultra-modern steel mesh and railings of an elevated walkway. The trough design chosen is the DELTA Carat 60 Trough 140 which is the largest within the Carat series.
A sunken garden provides a cool, tranquil oasis at Ravelston Terrace, and for this space a softer, more organic look was desired. KYOTO 90, ALTO 75 and QUADRA 75 planters are arranged throughout this space, richly planted with specimen olives, Buxus and cordylines. Additional KYOTO 90 planters flank a central pedestrian route into the development, and this 400 litre capacity planter is ideal for specimen tree planting in key signpost locations. Finally, Granite Tall Tapered Planters are used on a balcony area overlooking the sunken garden, and are also used to identify the location of elevators.
View Project