---
York, Hungate Regeneration Scheme
Posted 15.06.2017
---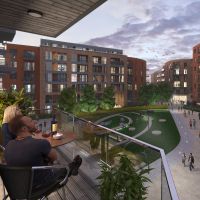 Corten Steel planters were commissioned for the latest phase of the Hungate regeneration scheme in York city centre.
The planters were manufactured from 2.0mm thick Corten Steel, and are located within a communal landscaped garden which forms the heart of this phase of the development. The central focal points of the garden are created by 5nr. large Corten planters of complex, polygonal form, all of Height 750mm with individual planter faces up to Length 3500mm. Planted with a mix of both trees and shrubs, the internal bracing of each planter was specifically designed around the tree root balls specified in the planting plan; and the planters include eye bolts in the base for tree anchor attachment
A further 2nr. Corten Steel tree planters, of dims. L 1500 x W 1500 x H 1050mm, are located on a pedestrianised street adjacent to the development. An additional 8nr. planters were manufactured from 2.0mm thick Zintec Steel with a Polyester Powder Coat finish. The colour chosen was MARS 2525 Sable, which complements Corten Steel well.
View Project