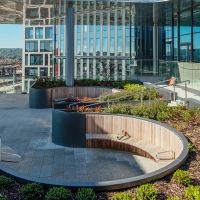 A bespoke metal and timber roof garden concept was commissioned from IOTA for the new BBC Wales headquarters building in Cardiff.
The roof garden is a striking feature of the Foster + Partners designed building. A curved opening in the metal roof plane allows natural light into the garden, which offers views across the city and provides a stunning location for outdoor filming.
The roof garden is large and complex, defining a total footprint of circa. 140 sq m, with the central focus being continuous lengths of sinuous Iroko FSC timber benching with Stainless Steel armrests.
The core structure of the garden was manufactured from 3.0mm Zintec Steel, Polyester Powder Coated [PPC] with a specialist product Powdertech Anomatch BGB 717. Given the high spec., a robust 4-stage PPC paint system was applied suitable for C3/C4 environments.
The ramped walkway and wheelchair access was clad, on both sides, with 3.0mm Aluminium PPC, in repeats to match the perimeter glass balustrading. Additional design integration was required to accommodate lighting and electrical distribution chambers within the garden structure.
View Project