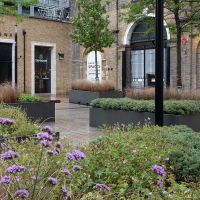 IOTA delivered a diverse range of large-scale landscape product solutions, for Berkeley Homes' redevelopment of the historic Royal Arsenal site in Woolwich.
The Scope of Works was diverse, comprising free-standing and movable tree planters, fixed planting perimeters for shrubs, and planters combined with integrated benching – 17nr. different elements in total, delivered to-site via 6nr. artic trailers, in a programme phased over 12 weeks.
The scale of the elements was unusually large. The planting perimeters, for example, were all Height 750mm, with footprints up to L 16800 x W 2400mm [i.e. with total perimeter lengths up to L 38,400mm]; and the planter / benches were of a similar scale, including substantial W 70 x H 50mm and W 50 x H 100mm Iroko FSC timbers.
View Project