---
Cardiff City Centre – St Mary's Street, CF10
Posted 22.08.2022
---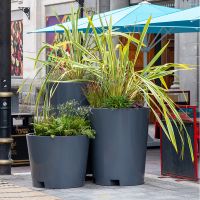 IOTA was commissioned by Cardiff Council to supply bespoke Steel street planters for St Mary Street, at the heart of the Castle Quarter of Cardiff city centre.
The planters are spread along the bustling, pedestrianised section of St Mary Street, leading from the gatehouse of Cardiff Castle.
The large, conical shaped planters were manufactured in three sizes with heights 800/1200/1600mm respectively, all with a top diameter of 1000mm. All planters are designed with channels in the base to allow them to be moved by fork lift or pallet truck. 1.4003-grade Stainless Steel was used – a grade of Stainless Steel which offers significant benefits for use in public realm, as discussed here: 1.4003-grade Stainless Steel – The Unique Advantages >>. The powder coat finish was a special anti-graffiti formulation to RAL 7015 [Slate grey].
View Project