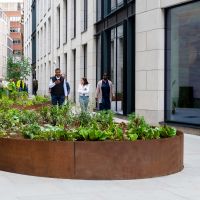 Large, bespoke, Corten Steel planters were commissioned for the City of London Corporation, for its Chancery Lane Area Enhancement Scheme.
Manufactured from 4.0mm Corten Steel, supplied pre-weathered, the planters are of 'planted perimeter' construction, open to the ground. The planters are Height 650mm and up to 8.4m in diameter; and are internally reinforced, for fastening down to a concrete foundation.
IOTA planters were commissioned by F M Conway on behalf of the City of London Corporation. The essential design concept was developed by the City of London Corporation; and IOTA's responsibilities covered design detailing and development, value engineering, manufacture, supply and installation.
View Project