---
Derry City Council, N. Ireland
Posted 05.09.2012
---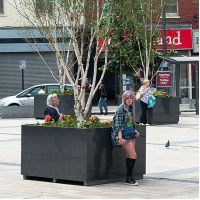 Bespoke granite planters were commissioned from IOTA by Derry City Council, as part of the city's preparations to host the Clipper Homecoming Festival 2012.
Ten large tree planters were fabricated from cut sections of 25mm thick quarried granite, each planter of dimension L 1600 x W 1600 x H 900mm. The specification included stainless steel eye bolts in the base of each planter (to assist installation, and which also served as attachment points for a tree anchoring system); plus granite feet to enable movement by forklift. The large tree planters were located in the city's central squares and pedestrian streets inland of Queens Quay.
In addition to the ten bespoke planters, twenty two large stock designs were also used in the scheme: namely, fourteen Granite Cube 600 planters and six Granite Trough 1000 planters. These stock planters were used specifically on the Baronet Street Quayside, the docking point for the Clipper yachts.
View Project