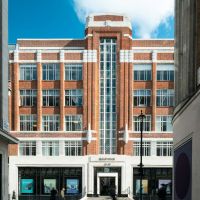 Large bespoke steel planter / benches, plus a selection of planters, were commissioned for the refurbishment of the Art Deco Elsley House building in the heart of Fitzrovia, London W1.
The largest planter / benches were L 4260 x W 2050 x H 750mm, in oval form; and included substantial sections of timber benching, inset into the planter perimeters. The design also included provision for LED under lighting, and its associated electrical service connection. The planter / benches are located within a courtyard, open to the sky, at the central heart of the building.
In addition to the planter / benches for the central courtyard, 12nr. steel planters [in IOTA's standard, multi-section design] were supplied to roof terraces at the upper levels of the building.
View Project