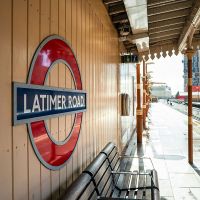 IOTA co-sponsored The Platform Garden at the 2023 RHS Chelsea Flower Show, designed by Amelia Bouquet and Emilie Bausager; and this garden has now been reinstalled at the Latimer Road underground station in West London.
Finding the garden's 'forever home' was facilitated by Energy Garden, a Community Benefit Society; and the installation was undertaken by Amelia and Emilie, working with a team of volunteers from the local community.
"It has been a labour of love getting the garden reinstalled, and we are delighted to see it arrived at its final destination! We owe huge thanks to the immense dedication of the local community who brought this project to life, and we could not be prouder to hand over the garden to the future care of everyone at Latimer Road".
Amelia and Emilie
The Platform Garden at Chelsea was designed specifically with eventual public realm installation in mind, with the use of hard-wearing materials such as metro tiles, glass bricks and re-used concrete pavers and litter bins. IOTA's metalwork is robustly constructed, and the powder coat finish applied is also extremely hard-wearing.
View Project