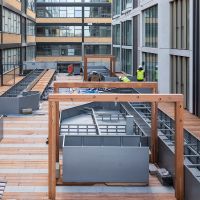 IOTA delivered super-sized and complex bespoke steel planters for the extensive community gardens at Long & Waterson Apartments, Shoreditch, London E2.
The scheme by Alexandra Steed URBAN comprised 11nr. extremely large planters [the largest Length 24620mm], each multi-sectioned and of complex form and geometry.
The scale of the individual planters, and the ambition of the planting, required extensive design detailing to accommodate drainage, irrigation, and also the root balls of substantial trees. The overall scale of the project also posed scheduling and logistical challenges; and planters were delivered to-site in a pre-specified order, via 7nr. artic trailers, in a programme phased over 8 weeks. The planters were fabricated from 2.0mm Zintec Steel, Polyester Powder Coated to RAL 9007 [Grey aluminium].
View Project