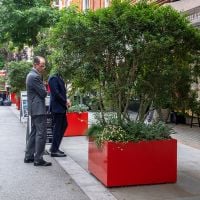 Stand-out Coral Red planters were supplied to The Grosvenor Estate, bringing life and colour to North Audley Street, in the heart of Mayfair, London W1. The planters are laid out in clusters and rows the length of the street, and showcase exuberant, drought-tolerant planting by Alexandra Noble Design.
A total of 44nr shrub planters and 25nr. tree planters were commissioned, respectively in 2.0mm and 3.0mm 1.4003-grade Stainless Steel – a grade of Stainless Steel which offers significant benefits for use in public realm.
The planters were finished using a 3-coat Polyester Powder Coat [PPC] system which is certified for C3/C4 environments; and, to further enhance durability, the top coat used was from the STRUCTURA range by Akzo Nobel / Interpon. The bold and impactful top coat colour specified was RAL 3016 [Coral Red]. 'Mayfair London' branding was retrospectively applied to some larger planters.
View Project