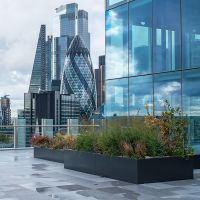 IOTA was commissioned to supply bespoke steel planters for One Braham – a new 18-storey building in the heart of the City of London, and the new corporate headquarters for BT.
This was a sizeable project, comprising 20nr. individual planters, each of substantial scale; including tree planters up to L 2990 x W 2390 x H 955mm, with the largest planter having dims. L 19680 x W 1650 x H 1250mm supplied in 8nr. sections. The entire order was packed for crane lifting, directly up to terraces on the 15th and 17th floors, and onto the roof at floor 19.
The planters were manufactured from 3.0mm Zintec Steel, Polyester Powder Coated to RAL 7021 [Black grey].
View Project