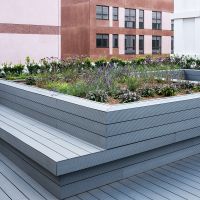 IOTA was commissioned to supply a bespoke communal roof garden scheme, for the Sugar Island development in Stratford, London E15. The communal roof garden is at the top of a residential apartment block.
A total of 8nr. large, multi-section planters were manufactured, the largest of dims. L 11070 x W 928 x H 862mm. These planters formed the structural 'backbone' for the garden, to which services were attached; and from which seating and cladding was built-out [by others], all of a light grey composite decking. All of IOTA's works were manufactured from 2.0mm Zintec Steel, Polyester Powder Coated to RAL 7048 [Pearl mouse grey].
Sugar Island is a 26 acre water-surrounded district in Stratford, East London, under current development by Vastint UK. Striking a balance between homes, offices, creative hubs and independent retailers, and surrounded by outdoor spaces and waterways, the Island will become a cohesive neighbourhood, inspiring human connection.
View Project