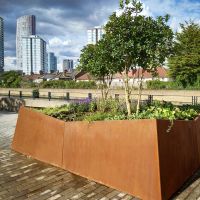 IOTA was commissioned to supply bespoke Corten Steel street planters, of complex sculptural design, for the Sugar Island development in Stratford, London E15.
All items were fabricated from 3.0mm Corten Steel, pre-weathered before shipment; and the planters include a complex 'cross break' design detail in the faces, plus variable height rims.
20nr. planters in total were manufactured, including green screen planters and freestanding planters – the largest of dims. L 4000 x W 3000 x H 1000mm. Very severe site falls were surveyed by IOTA; and sloped bases and adjustable feet were designed-in as necessary.
Sugar Island is a 26 acre water-surrounded district in Stratford, East London, under current development by Vastint UK. Striking a balance between homes, offices, creative hubs and independent retailers, and surrounded by outdoor spaces and waterways, the Island will become a cohesive neighbourhood, inspiring human connection.
View Project