---
The Caledonian, Edinburgh
Posted 15.08.2013
---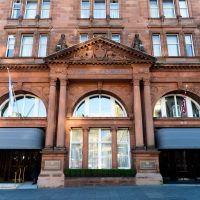 DELTA Carat steel and fibre reinforced cement planters were selected for The Caledonian, Edinburgh – a landmark hotel, and part of the Waldorf Astoria Hotels & Resorts portfolio.
The planters selected by The Caledonian were the DELTA Carat 60 Trough 120 design, with dimensions of L 1200 x W 600 x H 600mm. The planters are used to screen and disguise a staff car parking area, so that it is not visible to arriving guests.
DELTA CARAT trough planters are manufactured from a proprietary, patent-protected form of fibre reinforced cement (FRC), set within a stainless steel framing system. The FRC panels are heavily compressed under pressure, making them three times denser, and therefore stronger, than moulded FRC; and the stainless steel framing gives increased protection against damage. The trough planters also incorporate an inbuilt reservoir system.
View Project