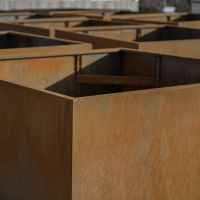 IOTA supplied a complete package of Corten Steel street furniture to the Tyseley Wharf development in Birmingham.
The total street furniture requirement supplied, all in Corten Steel, comprised:
Tree Planters
16nr. L 2000 x W 2000 x H 900mm tree planters, in 3.0mm Corten Steel, each supplied with an internal reservoir system.
Benches
9nr. L 2000 x W 590 x H 450mm benches, in 4.0mm Corten Steel and W 70 x H 150mm Iroko FSC timbers.
Tree Grilles and Guards
8nr. L/W 1200mm tree grilles, in 5.0mm Corten Steel, including tree guards of H 1000mm.
IOTA's delivery was on the basis of design, manufacture and supply; and IOTA also supplied all items pre-weathered, with the characteristic patina of Corten already developed. IOTA's street furniture was commissioned for this project by contractors A&H Construction & Developments plc.
View Project