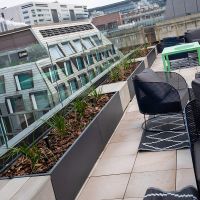 IOTA was commissioned to supply bespoke steel planters, plus composite wood benching, for 120 Moorgate – a modern dynamic new office development, for occupation by WeWork.
The scheme extended to a total of 64 linear metres, comprised of 44lm of planters plus 20lm of benching. The benching disguises mansafe system attachment points, and those elements were thus designed to be removable. The entire order was packed for crane lifting, directly up to terraces on the 2nd and 7th floors.
The planters were manufactured from 2.0mm Zintec Steel, Polyester Powder Coated to RAL 7021 [Black grey]. The benching elements were fabricated from 'Millboard' brand composite decking in Smoked Oak colour. IOTA also supplied / installed thermal insulation, reservoirs, drainage, planting medium and mulch for all planters [the planting itself was conducted by WeWork].
View Project