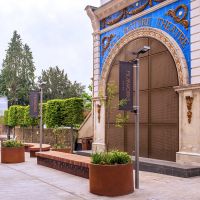 IOTA was commissioned to supply a range of bespoke Corten Steel and timber streetscape elements, for the Filmworks development in Ealing, West London.
All items were fabricated from 3.0mm Corten Steel, pre-weathered before shipment, and the timber specified was FSC Iroko. The Scope of Works included:
Long benches, of varying lengths, both straight and curved, including a laser cut 'bubble' pattern, backed with acrylic, to create a lighting feature at night. IOTA also supplied the LED lighting packages, fully pre-installed, ready for site connection.
Corten Steel waste bins, including a laser cut 'bubble' pattern, backed with acrylic, to match the long benches.
Various Corten Steel planters, including large 3m wide tree planters, with integrated seating and backrests.
Corten Steel bicycle stands.
Filmworks Ealing is a development by St George, part of the Berkeley Group. Preserving the art deco façade of the historic Empire Cinema, the development takes inspiration from the glamour and splendour of the roaring twenties. Providing over 200 contemporary homes, Filmworks also includes an eight screen Picturehouse cinema; and a central piazza, surrounded by a high-quality mix of restaurants, coffee shops and leisure facilities.
View Project