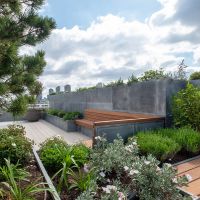 IOTA's bespoke Zinc planters and timber seating feature in communal outdoor spaces, designed by Andy Sturgeon Design, at The Bindery office development in the heart of Hatton Garden.
The Bindery is a reimagining, by developer Dorrington Plc and architects Piercy & Company, of an Art Deco building, built on the site of a book-binding business. With a mission to create "what office space should be", classical building features are combined with flawless levels of comfort, outstanding attention to detail, and impeccable sustainability and wellness credentials.
IOTA's Scope of Works at The Bindery included:
7th Floor Roof Terrace
Extensive areas of continuous, multi-section Zinc planters, suitably reinforced internally to accommodate the specified planting plan.
Planters included lockable access hatches, to internal compartments, for access to water and electrical services.
Double-height, Zinc-clad wall at one end of the terrace, containing lockable storage cupboards beneath a continuous row of planters.
FSC Iroko timber benching integrated with the planters.
Special packing of all finished materials to enable crane lifting onto the roof.
Ground Floor Reception Terrace
Planters and benching essentially as per the Roof Terrace, but on a smaller scale, and absent the double-height, Zinc-clad wall.
Works also included FSC Iroko timber benches and slatted screens, for a small lower-ground courtyard garden off the Reception Terrace.
The focal point of the Reception Terrace is an Eddie Roberts' steel sculpture crafted from material salvaged from the building – not by IOTA.
The complete works weighed 6 tonnes, and were delivered via 4nr. dedicated artic trailers.
View Project