---
Chelsea Flower Show 2023, The Platform Garden
Posted 22.05.2023
---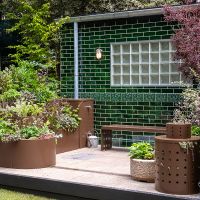 IOTA co-sponsored The Platform Garden at the 2023 RHS Chelsea Flower Show, designed by Amelia Bouquet and Emilie Bausager.
IOTA design-engineered and sponsored all of the metalwork elements for the garden – including the tiered planter, planter with bench, compost bin, and the rain water harvesting water tank.
The Platform Garden is inspired by overground train platforms in and around London showcasing how green infrastructure can be better incorporated into community garden areas in train stations. These spaces can be a key element in tackling climate change in cities; and also creating a pleasant atmosphere for commuters, community gardening groups and staff working at these stations.
View Project