---
Royal Bank of Canada, Jersey, Channel Islands
Posted 22.12.2016
---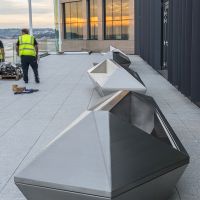 Bespoke stainless steel planter-benches were commissioned for the new offices of Royal Bank of Canada in Jersey.
The planter-benches are highly sculptural; and of complex, multifaceted form, in 2nr. mirror-image designs. The planter-benches included the following bespoke features:
Bench seating and back rests made from 50mm thick Accoya timber, treated with a specified stain, and inlaid with stainless steel detailing.
Bench seating backed onto 3.0mm stainless steel, and lifting via gas strut hinges to allow access to power supply and driver units for LED lighting.
3nr. removable planter liners; with handles above, and drainage hose attachments underneath.
Provision for LED lighting around planted area.
Provision for exterior lighting sockets.
The planter-benches were manufactured from 3.0mm thick 316-grade Stainless Steel, with a brushed finish; around a substantial subframe of Mild Steel SHS, blasted to clean metal and lacquer-protected. The removable planter liners were made from 2.0mm Zintec Steel, with a Polyester Powder Coated finish.
View Project