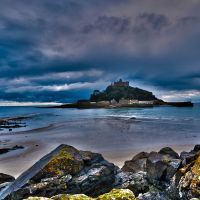 Boulevard Fibre Reinforced Cement [FRC] planters in natural grey were chosen by St Aubyn Estates for St Michael's Mount, one of Cornwall's most iconic destinations.
Matching planters were also chosen for The Godolphin Arms, which is also part of St Aubyn Estates. The Godolphin Arms is a beachside inn and hotel on the water's edge, at the other end of the tidal causeway to St Michael's Mount, and with stunning views across Mount's Bay to the island.
The planters chosen were the large, sculptural stock designs Kyoto 90, Plantship, and Lausanne 70, from IOTA's Boulevard range of Fibre Reinforced Cement [FRC] planters. Uncommonly, the planters were specified without an external paint finish, in the natural light grey colour of the raw FRC material. Being unpainted and unsealed, the planters have a raw, organic aesthetic, and they will age and weather over time.
View Project