---
The Belfry
Posted 30.04.2013
---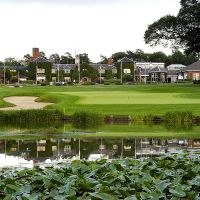 IOTA's granite planters have been selected by The Belfry, as part of a £30 million refurbishment programme.
The Belfry is one of the world's leading golf resorts, and the only four-time host of the Ryder Cup matches, The Belfry is also home to the PGA National Golf Academy.
IOTA's Taper 800 planters signpost all main entrances: to the hotel, the conference centre, and to the PGA Academy building. 1000mm tall Taper XXL planters are used to signpost secondary external entrances. Arrangements of planters are used to green the hard-landscaped external bar terrace; whilst Granite Trough XL planters are used internally within the hotel foyer. The external planting paired with the granite planters uses a combination of evergreen Buxus topiary and seasonal planting.
View Project